Family Evening Story Time
Mondays at 7:00 PM
Join us for a story time for the whole family! Wear your favorite pajamas as we read stories and sing songs! All families welcome.
Contact: JoLynne Dougherty 412-276-3456 x11
Weekly Story Times
Babies and Books Story Time – Tuesdays at 10:30 for ages 0-2 1/2
Preschool Story Time – Thursdays at 10:30 ages 0-6; crafts and stories
Family Story Time – Mondays at 7:00 PM
---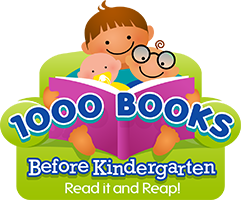 1000 Books Before Kindergarten
Carnegie Carnegie Library is now part of the 1000 Books Before Kindergarten program! This program aims to instill a love of reading and promote early literacy in young children. The program is simple, read 1000 books before entering kindergarten! You can keep track of the books however you choose, with notebook paper, reading logs from the library, or the 1000 Books app. Every 100 books, stop by the library to get your sticker and update your progress!
Building Your Family's Home Library
The ALA-Children's Book Council (CBC) Joint Committee has created this bibliography to provide guidance to parents, grandparents, and others interested in assembling a high-quality library for their children at home, or request to borrow from us!
Ages 0 -3
Ages 4 – 7
Ages 8 – 11
Ages 12 -14
Online games for kids with Bob the Builder
PBS Kids – Lots of activities full of your favorite PBS characters
A site for kids' activities, experiments, games, magic tricks, jokes and more. For ages 9 and up.
Children's Resources to Online Databases
Access additional resource at home, outside the library, using your library card number. Click on the icon.
Cruise into kindergarten online game designed by Pennsylvania Public Libraries to strengthen early literacy, math, and science skills.