Summer Reading Challenge is on!
June 17 – August 10

Kids(pre-k-6th)
Register and pick up your materials at the circulation desk. Turn in your book log for 5 raffle tickets and awesome coupons! If you complete an activity sheet, you'll get more raffle tickets and another coupon!
---
Harry Potter's Birthday!
Wednesday, July 31 || 12:30 – 2:15 PM – Activities
2:30 – 5:00 PM = Film
Grades 4 & up

Calling all Huffelpuffs, Gryffindors, Ravenclaws, and Slytherins.  Join us for a special day for Harry Potter fans.  Wear your house colors proudly.  We will have special activities based on the classes for a mini Hogwarts experience.  Registration is required for activities.
Harry Potter Movie.  At 2:30 we will end the afternoon celebration with a special showing of the first movie in this wonderful series.   The movie is open to all fans of any age.
---
Crafty Thursdays
June 27 || 3:00 – 6:00 PM

Head down to the library for crafting fun! June will feature crafts using recycled materials. This week we'll use paper towel rolls to make dinosaurs!
School-aged children.
July 11 || 3:00 – 6:00 PM

Drop-by for some awesome crafts! Cool off this week by making your own paper fan!
School aged children.
July 25 || 3:00 – 6:00 PM
Drop-by for some awesome crafts! Take advantage of the sun's rays and make some sun catchers!
School aged children.
---
Summer Story Time
Join us for a new summer story time! We'll be outside enjoying the summer sun while we read some stories, sing songs, and play with bubbles! Then we'll cool off with popsicles!
All families welcome.
Monday July 8 ||  7:00 PM  –  7:30 PM
Wednesday July 17 ||  3:00 – 4:00 PM
Contact:
Elizabeth Shedlock    412-276-3456 x11
Read with Ginny
Tuesdays, June 11 – August 6 ||  11:00 AM – 1:00 PM

Practice reading aloud with Virginia Woof (Ginny) a trained therapy dog who is excited to help your school aged child build confidence.  She will be here Tuesdays June 11 to August 6, from 11:00 am to 1:00 pm.  Please call to register your child for their slot.  Each slot lasts 10 minutes.  Open to beginning readers through rising 6th graders.
Contact:
Elizabeth Shedlock    412-276-3456 x10    shedlocke@einetwork.net
Math & Science 4U
Begins June 24th

Math & Science 4U is back! Children entering kindergarten will have the chance to practice their math and science skills before school starts in the fall. Using hands-on activities, we'll go over everything from counting to weather systems!
Space is limited and registration is required. Forms are available at the circulation desk. For children entering kindergarten for the 2019-2020 school year. Contact Miss Elizabeth for questions.
---
Lego Club


2nd Wednesday of each month, 4:00 – 5:30 PM

LOCATION: Studio
2nd Wednesday of the month 4-5:30 pm. Create with Legos! Free play or tackle a build challenge!
Ages 5-10.
---
S.T.E.A.M. on Saturdays, Grades K – 4
June 22 || 2:00 – 3:00 PM


Join Miss Elizabeth in exploring the exciting world of S.T.E.A.M.! A new program for grades K-4 featuring hands-on activities! Parent/guardian presence required.
CONTACT:  Elizabeth Shedlock  412-276-3456×11.
---
Wednesday, July 24 || 10:00 AM -6:45 PM

For Children of any age: Our stuffed animal sleepover.  Drop off a favorite stuffed friend on Wednesday July 24. We will have pictures of all of the antics they get up to when the library is closed.
---
Weekly Story Times
Babies and Books Story Time – Tuesdays at 10:30 for ages 0-2 1/2
Preschool Story Time – Thursdays at 10:30 ages 0-6; crafts and stories
---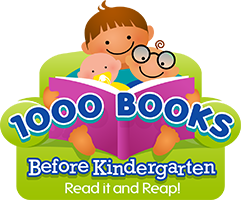 1000 Books Before Kingergarten
Carnegie Carnegie Library is now part of the 1000 Books Before Kindergarten program! This program aims to instill a love of reading and promote early literacy in young children. The program is simple, read 1000 books before entering kindergarten! You can keep track of the books however you choose, with notebook paper, reading logs from the library, or the 1000 Books app. Every 100 books, stop by the library to get your sticker and update your progress!
---
Building Your Family's Home Library
The ALA-Children's Book Council (CBC) Joint Committee has created this bibliography to provide guidance to parents, grandparents, and others interested in assembling a high-quality library for their children at home, or request to borrow from us!
Ages 0 -3
Ages 4 – 7
Ages 8 – 11
Ages 12 -14
---
Online games for kids with Bob the Builder
PBS Kids – Lots of activities full of your favorite PBS characters
---
Funology
A site for kids' activities, experiments, games, magic tricks, jokes and more. For ages 9 and up.
Children's Resources to Online Databases
Access additional resource at home, outside the library, using your library card number. Click on the icon.
Cruise into kindergarten online game designed by Pennsylvania Public Libraries to strengthen early literacy, math, and science skills.